BRIDAL SERVICES
Khyati Rana specializes in bridal hair and makeup. Most brides want to look glamorous, radiant and elegant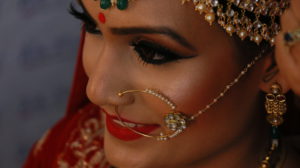 on their special day so that is exactly the look she sets out to give them. Committed to making every bride look unique by concentrating on her individual features, Khyati's signature look lies in enhancing the eyes. She reveals: "It's tempting for an artist to show off all her skills, but I'm all about keeping the look natural to allow the drama to shine through the brides eyes. A striking look is all about focusing on small details without overdoing the whole face.
It's this love affair with her craft that makes Khyati such a joy of brides to have by their side on their BIG DAY. Says Khyati: " from the first point of contact to beyond her wedding day, I make myself approachable – I realize my job is more than making her look the part. She needs to feel at ease to discuss ideas in preparation for the event and looking to me to clam her nerves on the actual day, so it's imperative that she finds me easy to connect with. I'm generally a very friendly person anyway, but I think it's my excitement and talkative behavior for bringing out the best on brides that wins them over.
Using only top-of-the-range makeup, Khyati will apply exclusive products from the likes of MAC, KRYOLAN, URBAN DECAY, SALEHA BEAUTY etc to see which suits the clients shade and matches her requirements to perfection.
Khyati has provided bridal makeup services for over 300 brides in the last 3 years. Khyati provides a range of different bridal services in different categories. She has recently introduced airbrush makeup in the Kenyan market.
customized makeup application
customized airbrush makeup application
customized strip lashes
customized hair styling
expert styling advice for jewelry and accessories
makeup application and hairstyling for bridal parties
bridal mehndi and mehndi party applications
beauty treatments such as facials for the brides and family members
NON-BRIDAL MAKEUP:
Khyati recognizes the importance of extending family and friends attending wedding and reception functions.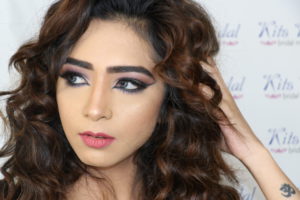 Khyati provides expert makeup application and hairstyling for any special events you may be attending:- – customized makeup application
customized strip lashes
customized hair styling
outfit styling