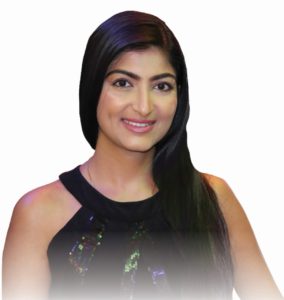 Khyati Rana – Award winning makeup artist specialist in high definition bridal makeup and hair styling.
I have been a makeup artist for over 7 years now and during that time, I've had the pleasure of working on hundreds of brides helping them create their ideal wedding makeup. I'm proud to have been awarded the title of the "Best Makeup Artist of the year 2018 by "Kenya Fashion Awards" and "Best Fashion Event Kits Bridal Makeup Masterclass by Tawaa 2019" and "International Makeup Artist 2015". As a young makeup artist I have the commitment to going beyond the traditional.Every six month I would travel to Mumbai or Gujarat to upgrade on the latest trends, one of them being airbrush makeup.
In addition to my broad range of talent and expertise, I bring out dynamic personality to my work, balancing dedication and professionalism with a sense of lightness, fun and creativity. My calm demeanor is an asset to the often hectic environments of bridal and editorial work. My approach to style: ' I'm all about the right products in the right places to highlight a person's best features and natural beauty'.
I use products from the leading cosmetic house as well as some professional brands. I don't believe in a generic look for bridal makeup, I will work with you to create whatever you have in mind for your 'BIG DAY'. Whether that is a classic English rose, a more dramatic celebrity inspired makeup or a traditional royal look makeover.